Agencies & Marketers
All-In-One Sales & Marketing Platform
[ FOR AGENCIES, BY AN AGENCY ]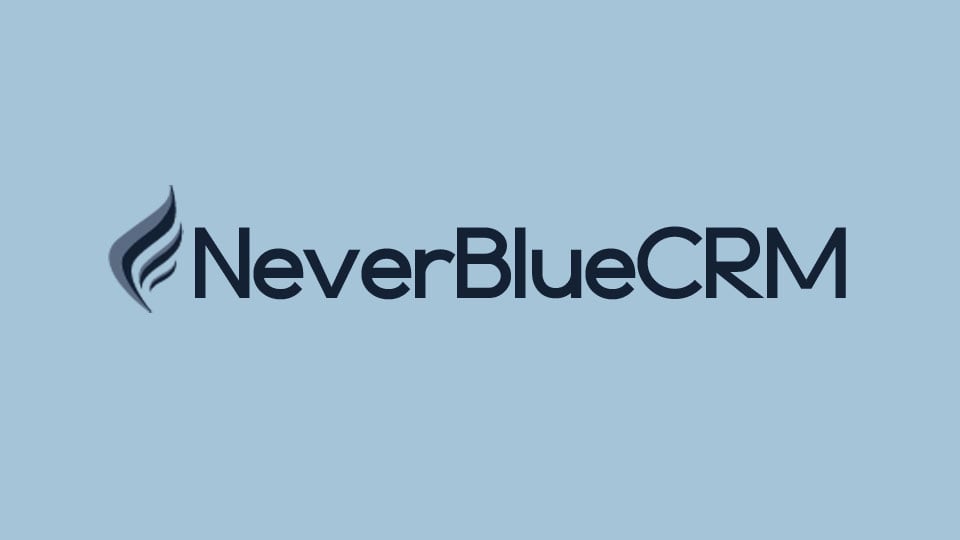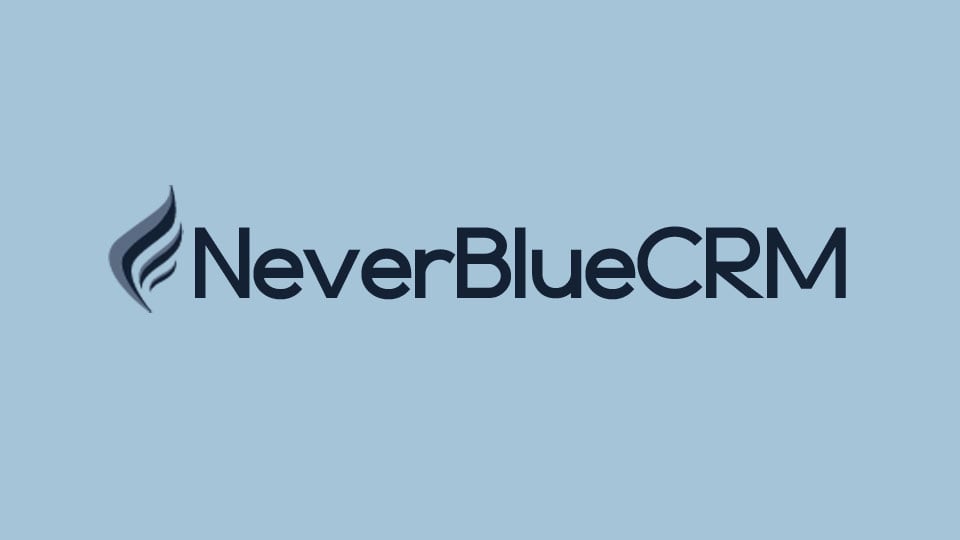 NeverBlueCRM Is Everything
Your Agency Needs To Succeed
We bring all the things you need to solve your digital agency problems in one place.
DO YOU WANT MORE CUSTOMERS?
With the support of our community, you will know the best strategies the most successful digital marketers are using to make a ton of money online so you don't have to waste another dollar on.
DO YOU WANT TO KEEP YOUR CLIENTS LONGER?
With our all-in-one marketing and sales platform, you will be able to keep your tools in one place (while saving a fortune) and streamline your entire delivery process so you can focus on keeping your clients happy.
DO YOU WANT TO SCALE YOUR BUSINESS?
NeverBlueCRM will help you grow your agency by connecting you with the most successful agency owners on the planet who will be able to help you close more deals or allow you to offer more services.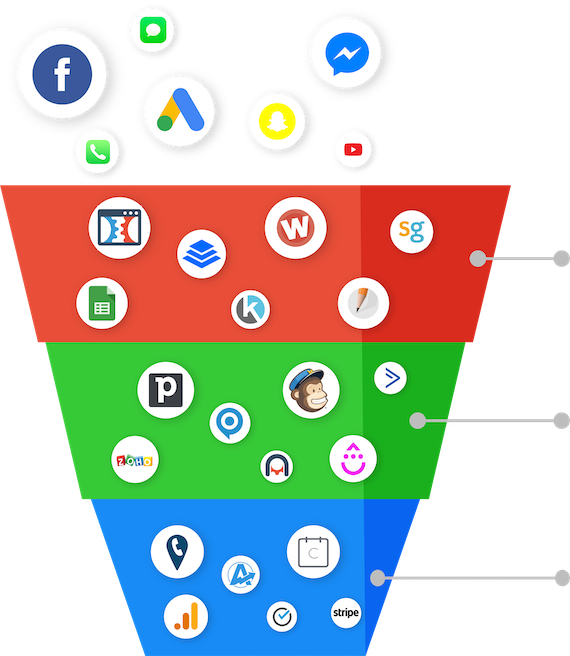 Building The Agency Engine
All the tools you need in one platform without having to "duct-tape" multiple platforms together!
Capture leads using our landing pages, surveys, forms, calendars, inbound phone system & more!
Automatically message leads via voicemail, forced calls, SMS, emails, FB Messenger & more!
Use our built in tools to collect payments, schedule appointments, and track analytics!
NeverBlueCRM is a Full Suite Platform for Agencies. Included in the Platform is a full featured Page Builder to capture leads.
CREATE FULL WEBSITES, FUNNELS & LANDING PAGES
Our intuitive platform allows you to create full featured websites with custom menus. Create high-performing and captivating landing pages all in one place!
DRAG & DROP SURVEYS AND FORMS
Built right in is the ability to capture leads through Surveys and capture forms. You can integrate directly with our page builder or embed them on your own sites.
ONLINE APPOINTMENT SCHEDULING
The major step for many business is to capture appointments and request appointments. We've built our own calendar application within NeverBlueCRM so you can capture the appointment all in one straightforward flow.
CREATE AMAZING LANDING PAGES
IN MINUTES WITH THE
NEVERBLUECRM FUNNEL BUILDER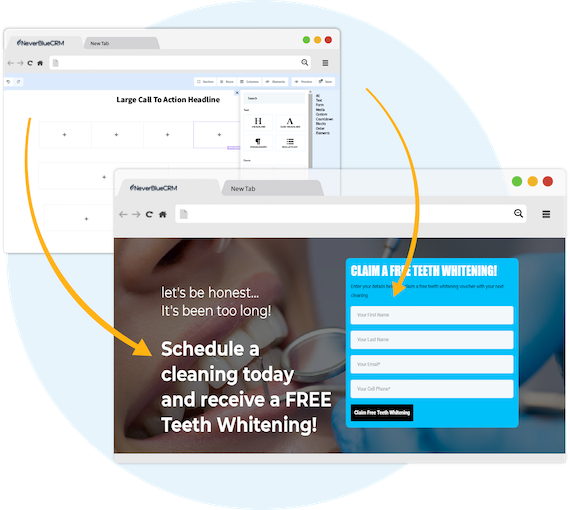 AUTOMATE YOUR MESSAGES SO YOU CAN BE HANDS-OFF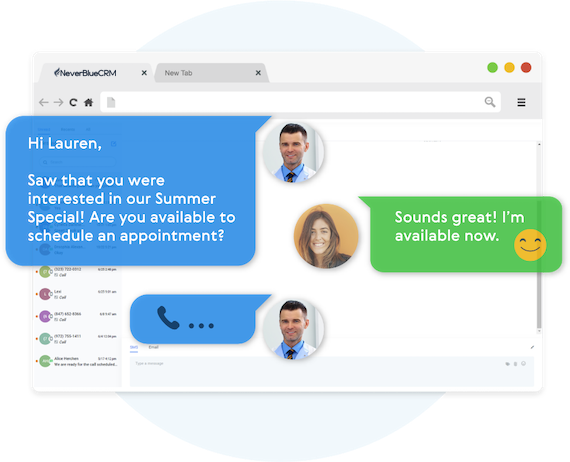 Nurture Leads Into Customers
The backbone of NeverBlueCRM is what you are able to accomplish after you capture the lead.
EASILY CUSTOMIZE YOUR FOLLOW-UP CAMPAIGNS
Our Multi-channel follow up campaigns allow you to automate engaging follow ups and capture engaged responses from your leads.
CREATE MULTI-CHANNEL CAMPAIGNS
NeverBlueCRM allows you to connect with your leads through Phone Connect, Voicemail Drops, SMS/MMS, Emails, and even Facebook Messenger.
TWO-WAY COMMUNICATION ON ANY DEVICE
Our full featured mobile app allows you to communicate with your leads on all devices.
Automatically book leads and prospects to your calendar without lifting a finger.
AUTOMATED NURTURE CONVERSATIONS
Create text conversations with the goal of placing booked appointments on calendars WITHOUT any human interaction.
FULL CUSTOMIZATION OF MESSAGING
Use our campaign builder to customize the messaging.
ARTIFICIAL INTELLIGENCE BUILT IN
NeverBlueCRM allows you to leverage AI (Artificial Intelligence) and Machine Learning to manage the conversation.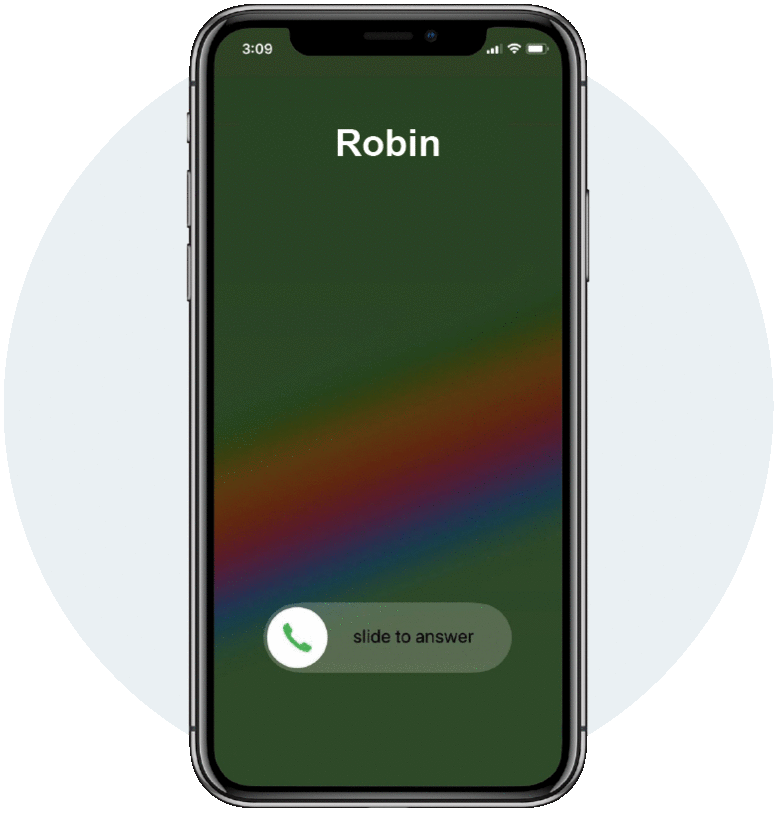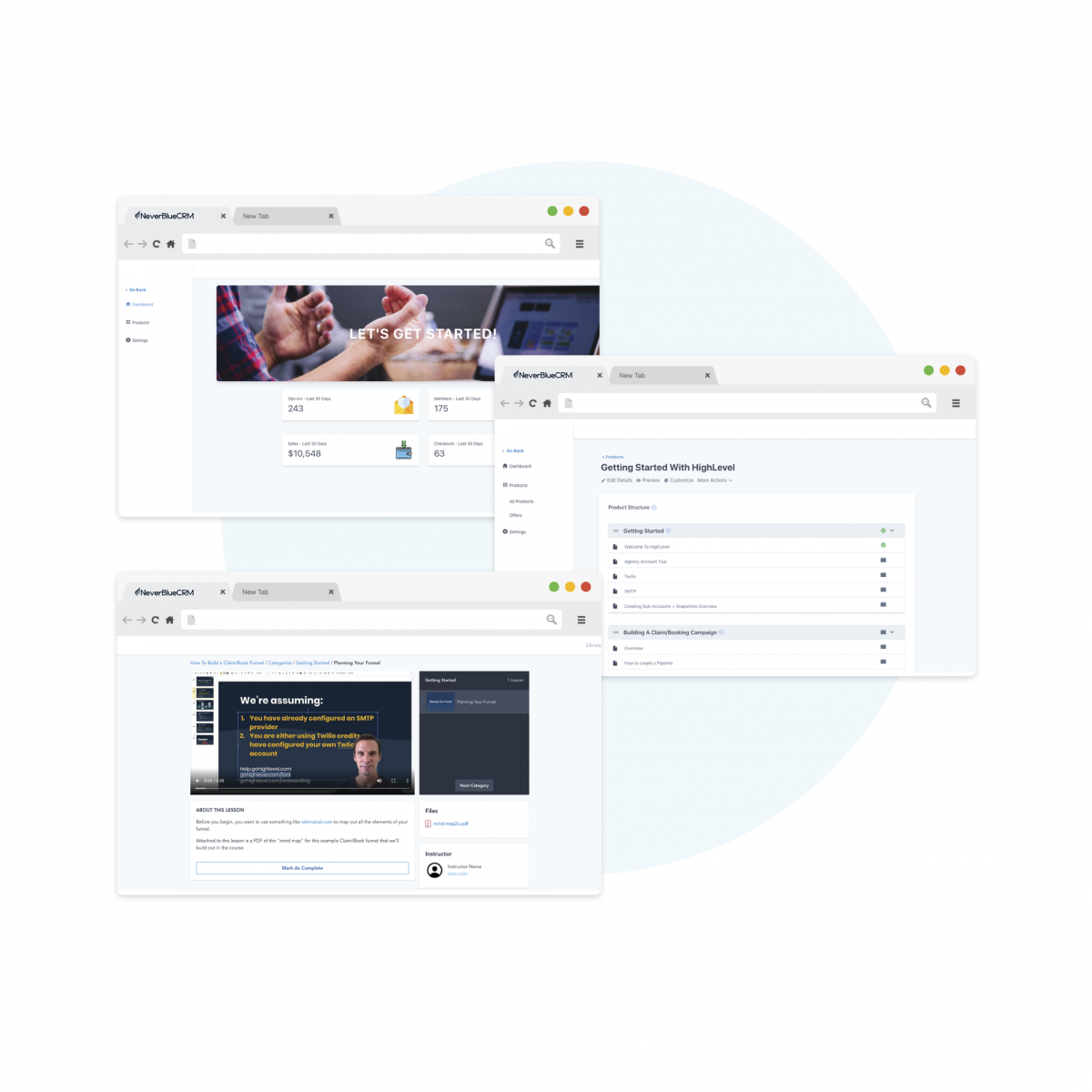 Create a thriving community for your agency or for your clients by using our Membership Platform.
OFFER FREE AND PAID COURSES
With our full Platform you can sell courses or offer courses for free, all in one product!
NeverBlueCRM offers unlimited users, offers, and products for your courses. You can create courses for your clients or for your own agency!
Our thriving community of the most successful and visionary digital marketers on the planet. Get all the training and resources you need to start or grow your digital agency.
MANAGE YOUR WORKFLOW AND PIPELINE
With our built-in Pipeline Management feature, you can keep track of where the leads are and what stage they are in the sales funnel.
COLLECT CUSTOMER PAYMENTS
We integrate directly with Stripe so you can collect payments on websites, funnels, and even when someone books an appointment.
ALL THE ANALYTICS & REPORTS IN ONE PLACE
Our dashboard keeps an overview of where the leads are, and how much money has been generated on each phase.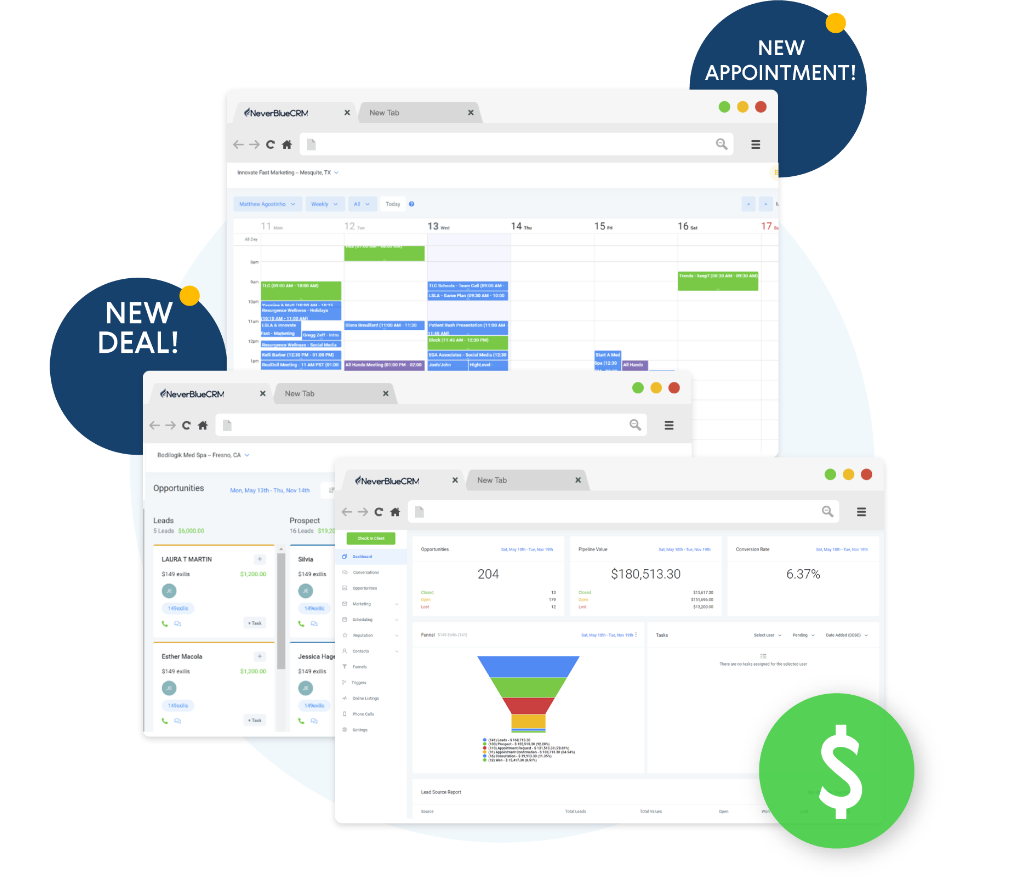 Join thousands of other marketers to learn how they're being successful and growing their agency with NeverBlueCRM…and how you can do the same too.
ALL THE TOOLS YOU NEED IN ONE PLATFORM
The NeverBlueCRM Platform is everything that agencies need to manage their client's leads, websites, funnels, calendars and many other services that are needed to maintain a customer.
YOUR OWN WHITE LABELING PLATFORM
Out of the box, the platform allows you to White Label the Desktop Application. Your clients will see your brand, down to the URL.
WHITE LABEL AGENCY FULFILLMENT SERVICES
NeverBlueCRM offers White Label Agency services such as Facebook Advertising, Google Advertising, and Social Media Posting.
Your Own White Label Platform
Our Agencies love providing more value to their clients. You have the ability with NeverBlueCRM to create a custom app in the App Stores*
SELL IT TO YOUR AGENCY CUSTOMERS
Offer access to the app for an additional fee or include it with your services!
SELL IT AT YOUR OWN PRICE
Since we offer unlimited accounts and users, sell it at any price that makes sense for you.
ADDITIONAL REVENUE SOURCE
The CRM and mobile app allows you to charge more than you previously were by offering a platform access fee to your clients.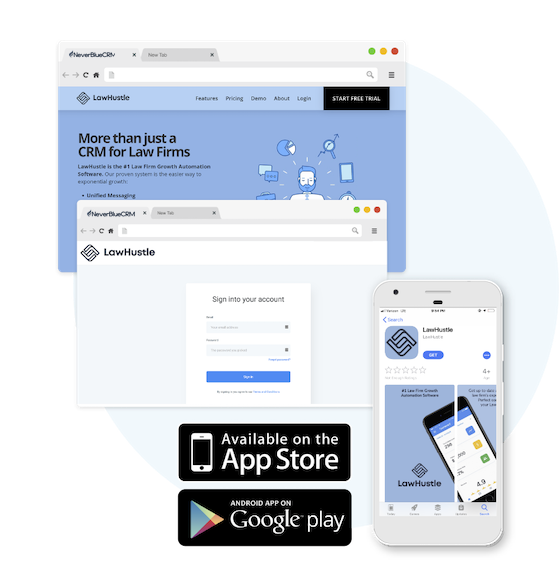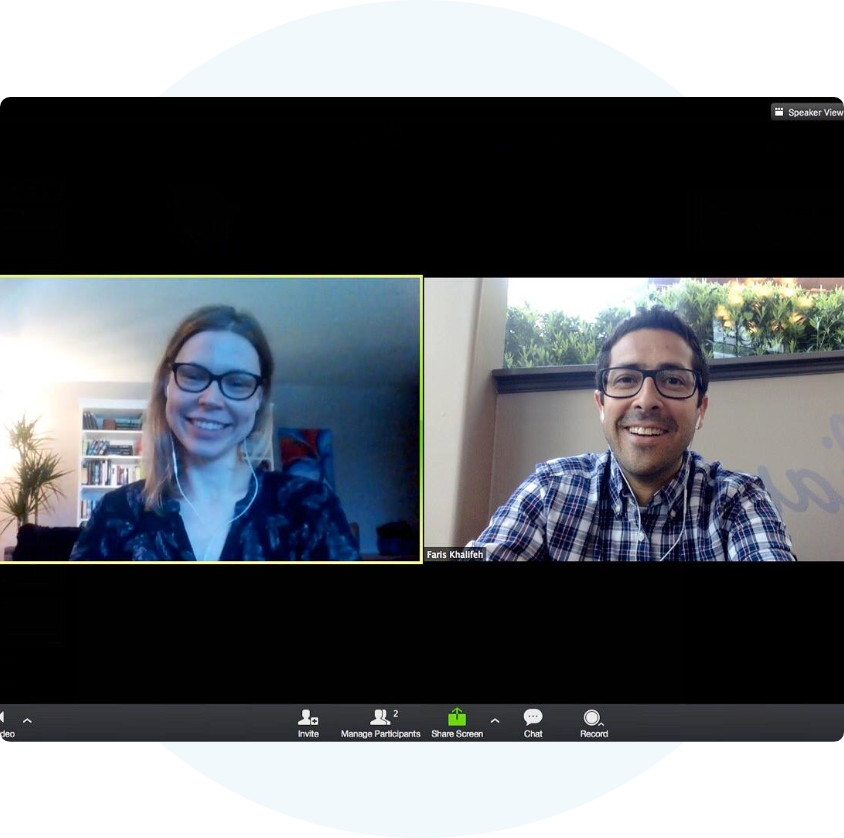 We are striving to offer the best possible support to our agency customers.
Within the platform we can one-click import from your previous marketing tools.
CONCIERGE MIGRATION SERVICES AVAILABLE
We've made our platform as intuitive as possible. Reach out to our support team with our Live Chat options, Email or even Phone to assist even further.
Our support team is 24/7 with world-wide support.
Our thriving community of the most successful and visionary digital marketers on the planet. Get all the training and resources you need to start or grow your digital agency.
BY AGENCIES, FOR AGENCIES
NeverBlueCRM was built and powered by an agency focused on the traditional issues agencies face. Once success was found, it was introduced to the market to help other marketing agencies solve the same issues.
COMMUNITY DRIVEN DEVELOPMENT
NeverBlueCRM is committed to helping the Agency world. We've built a community driven Ideas Board where you can share vote on ideas to help lead the direction of development.
NETWORK WITH OTHER SUCCESSFUL MARKETERS
Our Facebook Community is a network of start-up agencies all the way to the owners of the largest agencies in the world. Learn tips and ideas of what other marketing agencies are doing with NeverBlueCRM all within the community.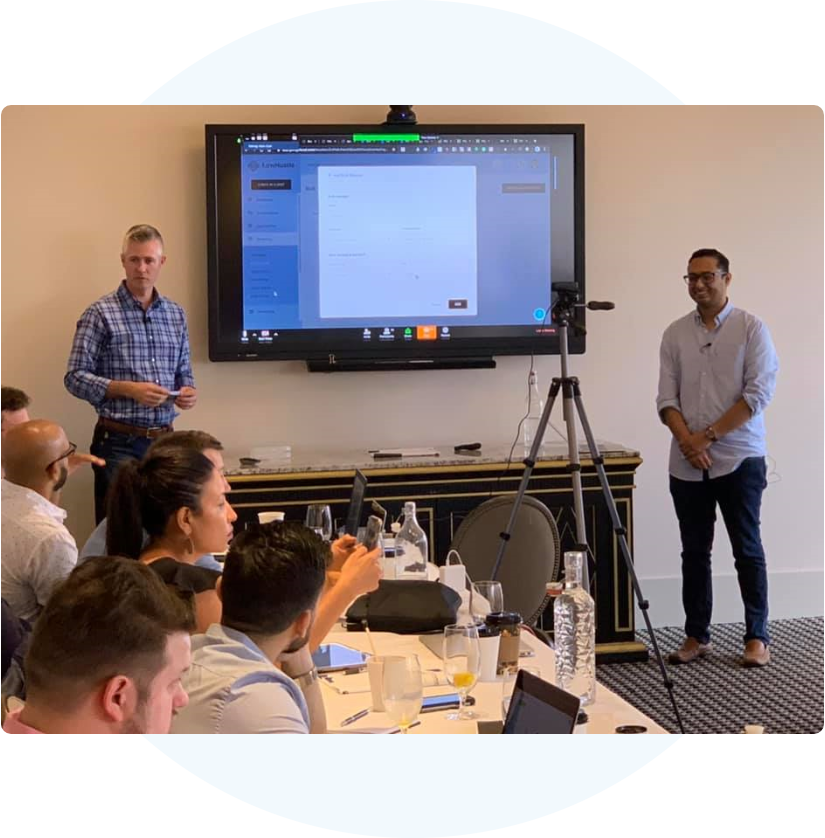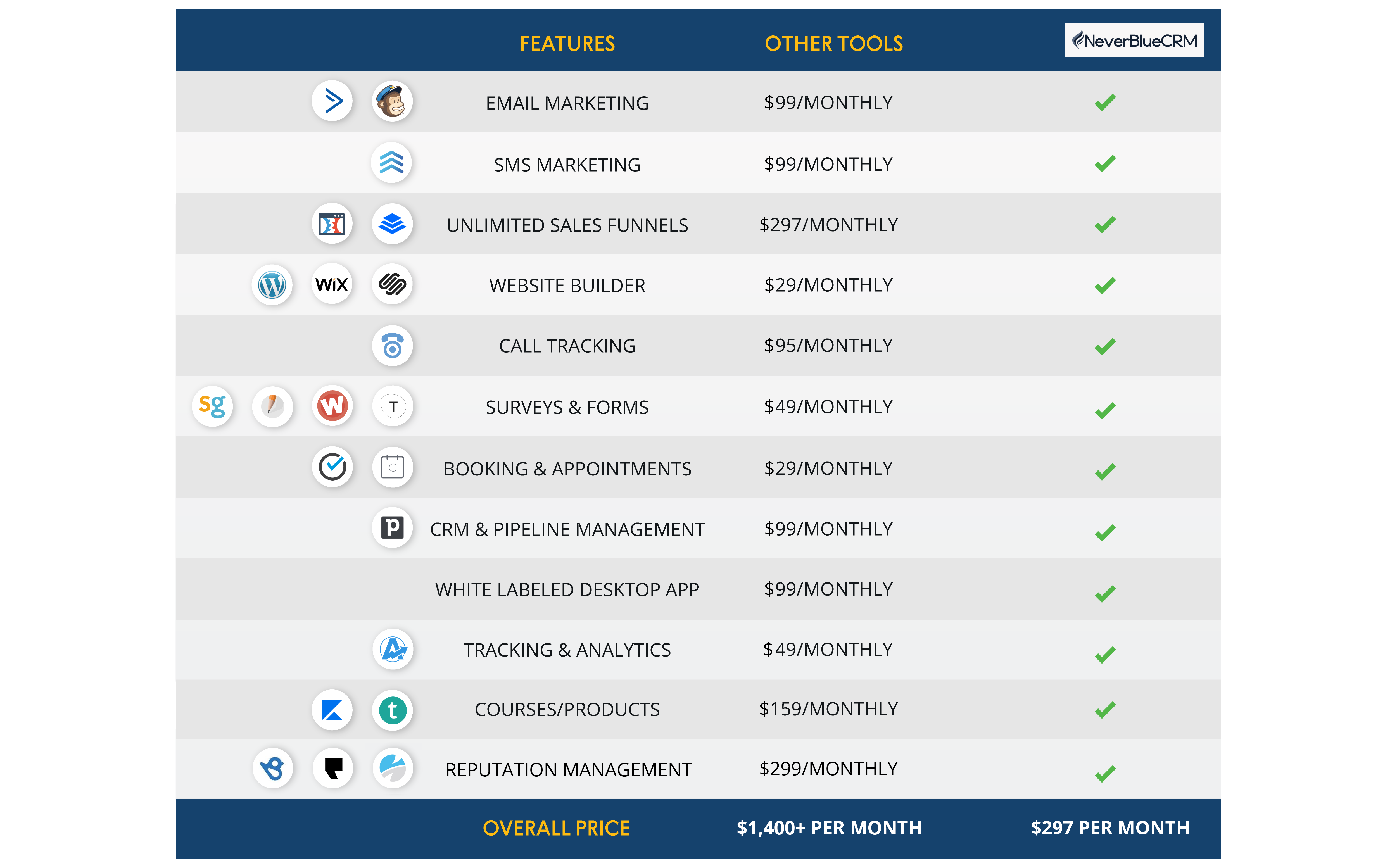 Join The Most Successful Agencies On The Planet
Discover What NeverBlueCRM Can Do For You & Your Agency
NO OBLIGATIONS, NO CONTRACTS, CANCEL AT ANY TIME
TWILIO – JUST ENTER YOUR OWN API TO ENABLE 2-WAY TEXTING

MAILGUN – JUST ENTER YOUR OWN API FOR UNLIMITED SENDING

SINGLE ACCOUNT – SETUP 1 CLIENT OR USE FOR YOUR OWN AGENCY
EVERYTHING IN AGENCY STARTER

UNLIMITED SUB ACCOUNTS – CREATE AS MANY ACCOUNTS AS YOU'D LIKE FOR YOUR CLIENTS OR OTHER BUSINESSES

BRANDED DESKTOP APP – OUT OF THE BOX, YOU'LL HAVE THE ABILITY TO USE YOUR OWN DOMAIN AND CUSTOMIZE THE LOOK AND FEEL OF THE PLATFORM
White Label + Custom Zap Upgrade
$497
Additional Per Month
MOBILE APP –

WE WILL CREATE A CUSTOMIZED MOBILE APP SO THAT YOU CAN BE FULLY BRANDED

ZAPIER –

WE WILL CREATE A CUSTOM ZAP JUST FOR YOUR BRAND

REQUIREMENTS –

THIS UPGRADE REQUIRES THE AGENCY UNLIMITED ACCOUNT.