STEP 1: REDUCE THE COST PER LEADWHAT WE DISCOVERED:
Josh used his proprietary marketing calculation software to identify the best lead sources for the least amount of dollars to be spent.
Ask Josh About This Tool!

STEP 2: ESTABLISH AND IDENTIFY
A new website was built and launched within 3 months. This was the foundation of all the marketing.

STEP 3: BETTER TRACKING AND TRAINING
Josh spent 4 days at the office location working diligently to train the staff on how to track every lead that called the office or entered through the website. He then streamlined a process to ensure everyone knew what needed to take place. Over the next 60-90 days, Josh Ramsey closely monitored and tracked everything.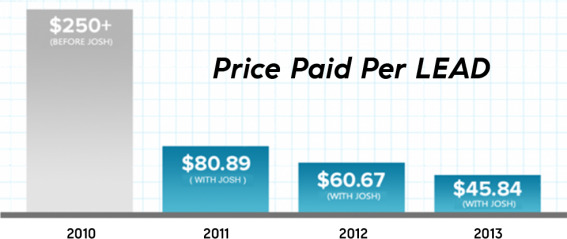 Understand This Type of Impact!
Imagine you spend $12,000 per year, every year, for 4 years. If you take the above price
per lead here's what your lead flow would look like based on the cost per lead.

Interesting Fact: Josh Ramsey worked as the CMO of this company for 5 years!
CONCLUSION
The company went from 1 location that was running smoothly and profitable to 2 additional locations under Joshua Ramsey's marketing direction.
Between the years 2014-2015, the company expanded to a 4th location and started offering services to an additional 3 markets.
One of the best marketing strategies used was created by Joshua Ramsey to target businesses that we knew used our services. With this strategy we were able to close extremely large accounts.
In the 5 years Joshua Ramsey operated as the CMO
the company increased the gross profits 163%.