10 Free Google Tools for Content Marketers
Do you consider yourself a content marketer? 
Regardless of how much experience you have or the results you have obtained in the past, you can always improve your performance.
Many people see Google only as a search engine. There is nothing wrong with wanting to have your site well positioned in the search results, but you cannot ignore the process necessary to reach that result.
When it comes to content marketing, the tools and strategy you use have a big impact on the bottom line.
It doesn't matter if you are new to content marketing  or if you already have years of experience behind your back, this post may change your future approach.
Next, I'll talk a little about 10 free Google tools that every content marketer should use. You may not use them daily. Some may not be suitable for your marketing strategy. Still, I'm sure you'll find one or two that can change your approach for the better.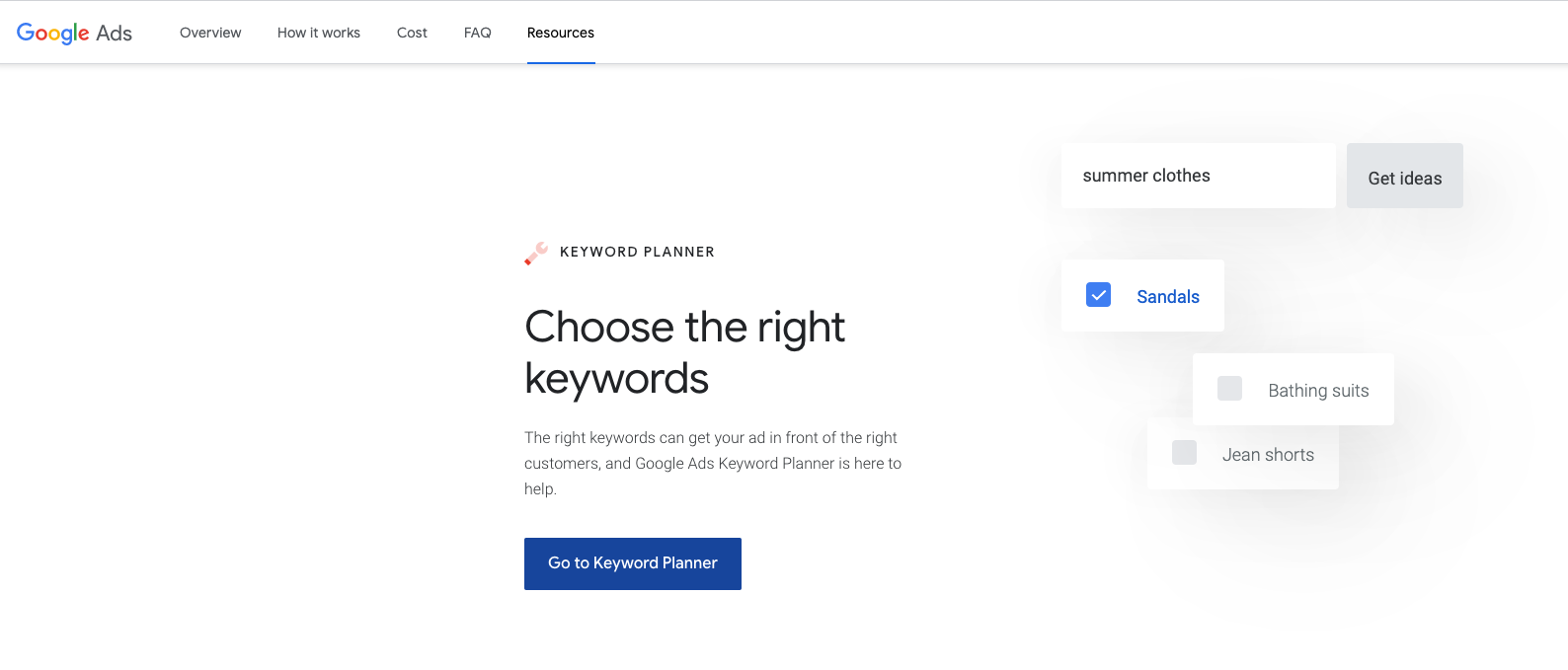 1. Google AdWords: Keyword Planner
Looking for a tool that helps you find and select the best keywords for your business?
While there are many options available,  each with its own particulars, Google's Keyword Planner remains one of the best.
There are many reasons to like this Google tool, including the fact that it is free and extremely simple to use.
As a content marketer, you should always look for keywords that can boost your website or a specific blog post.
My advice for using this tool is simple: try it, try it and then try some more.
The more research you do, the better you will understand how the tool works. What's more, various searches give you a broader insight into which keywords work best for your site.
For example, "content marketing" can be your main keyword. In a perfect world, your website would be the main result of Google's search for that term. However, you know how difficult this is. And you also know that there are long-tail search terms that can drive more traffic to your site.
This Google tool helps you discover these terms. Take a look at this screen: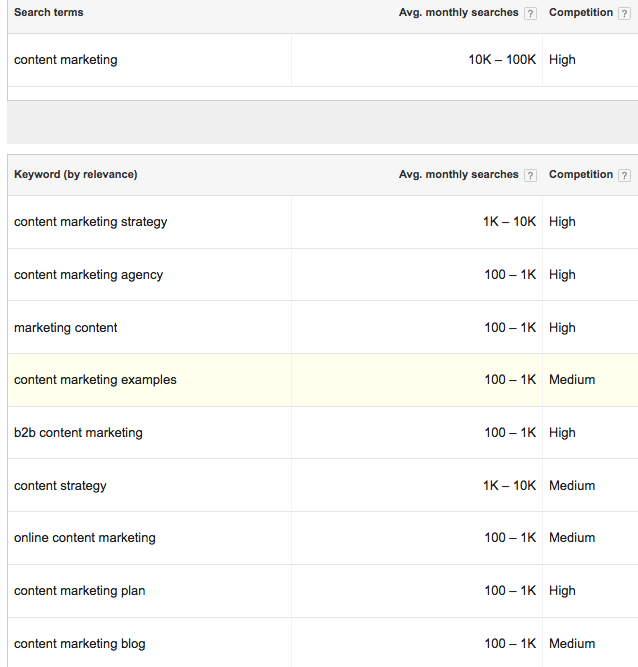 With this knowledge, you can better plan what to do next. You may find that "b2b content marketing" is a keyword that can be used in a future blog post.
At this point, you can use the term as your main keyword and discover other ideas for long tail terms.
Although it looks like a basic tool, the Keyword Planner works very well for content marketers looking to discover keywords to drive more traffic.
2. Google Analytics
What goals have you set for your content marketing strategy?
If you don't know the answer, it's time to slow down and reassess your situation.
If you have already set your goals, it is very likely that most of them are based on traffic and related statistics. Therefore, it is necessary to become familiar with the internal workings of Google Analytics.
No two people use Google Analytics in the same way. But if you work with content marketing, there are some considerations.
To start, you can use this Google tool to get a report on your performance over a specific period.
This is enough to clarify if you are on the right track to achieve your goals.
From there, you can dig deeper and search for more data.

The more you click and move from one section to another, the deeper you go into the tool. For example, I always like to check my best pages during a specific period.

This gives me a good idea of ​​what is and isn't working in relation to the choice of topics, the type of content I am offering and whether readers are interested in what I have to say.
The more you use Google Analytics, the easier it will be to focus on the data that has the most impact on your site.
3. Google Search Console
As with Google Analytics, the time you dedicate to this Google tool will never be in vain.
There is a lot to learn from Google Search Console. In no time, you will spend hours immersed in the data.
In addition to analyzing the overall health of the site, there are many other things you can do with this Google tool.
My favorites are in the Search Traffic menu: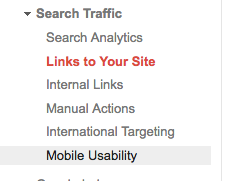 For example, the Search Analytics report allows you to quickly analyze your Google search performance.
If you've ever wondered how your keywords are performing, click Position to learn more. This option will show the approximate position of all your keywords in the Google search.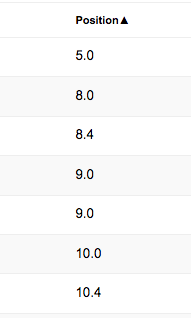 Content marketing people should be familiar with everything Google Search Console can do. Even if you only use it to monitor some metrics, it is a very useful tool in the long run.
4. Google Trends
Do you have trouble creating new ideas for your blog and other content marketing opportunities?
You can't deny that Google's Keyword Planner can give you hundreds of ideas related to your business and your market. But that is not always enough to create relevant content.
That's why I have a habit of checking Google Trends when I'm brainstorming new ideas for the blog.
With this Google tool you can explore any topic you want and see what's trending. You can also check out the "currently popular stories" and see if there's something compatible with your market and the approach in which you want to take it.
For example, presidential campaign debates will certainly be a hot topic.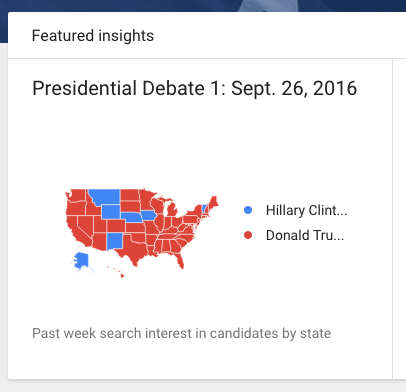 Is there any way to relate this to your blog or other content marketing actions?
If you write about politics, you know that there will be plenty of topics to keep you busy. If not, you can use Google Trends to stimulate creativity.
Taking the same example, you could write a post with the title: "How Donald Trump Is Using Content Marketing."
By using this title, you will be offering targeted content to your audience, while taking advantage of a popular topic. It is the best of both worlds.
You don't need to have experience or a lot of time to use this Google tool. Just type in a subject and review what Google gives you back. From then on, let your creativity flow and see how far it can take you.
5. Google Sheets
Content marketers need to have a method for recording and finding data. In addition, there may be times when you will need to share this information with other team members.
For me, Google Sheets is one of the best and most efficient tools for recording and tracking data, and for working as a team.
Here's an example: Many people ask me how best to measure the reach of an email campaign. Although there is a lot of software that does this, some with very advanced functions, most people are not willing to pay.
Despite not offering the same functions as these tools, Google Sheets is still one of the best ways to stay organized. As long as you commit to updating your spreadsheets frequently, this Google tool is efficient enough to have a positive impact on your content marketing actions.
Tip: You can use Google Sheets to create a to-do list, which is very useful for anyone working with content marketing. Even with a basic list, you will always have a clearer idea of ​​the tasks you need to complete.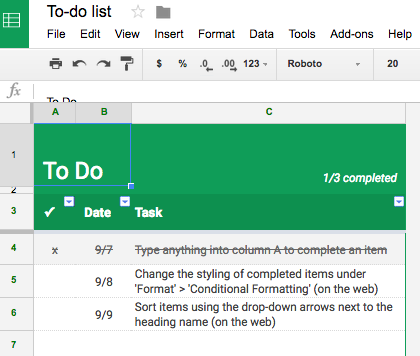 6. Google+
Although it has not become the social network that Google hoped for, Google+ remains a useful tool for everyone who works in marketing.
In short, Google+ is a place to create connections, including with business partners, and publish content.
For example, you can see my profile here . I'm not as active on the platform as others, but participating is still a good idea.
If you work with content marketing, I suggest using this Google tool in three ways:
Share content with your followers.
Expand your network of contacts.
Discover content that can impact your business.
Even if you don't do anything, take the time to post updates to your Google+ page. You probably already do this on Twitter and Facebook, it never hurts to add a new task to your routine.
7. Gmail
Much of content marketing involves creating and maintaining relationships with a multitude of contacts.
For example, there will come a time when you will spend hours spreading a new blog post among influencers in your network. And since email is one of the best ways to do this, it's good to be comfortable with the application you use.
Gmail has always been my favorite email client, thanks in large part to its built-in features. That said, it's a much more useful Google tool than it looks.
I  use several plugins  to tailor my Gmail account to my needs. For example, with WiseStamp I can create a personalized email signature. In addition, I also use FollowUp.cc, so as not to miss important emails related to my content marketing actions.

You are not required to use Gmail as your provider, but I recommend giving it a try if you are willing to change. With so many plugins to choose from, you'll be able to customize your inbox to meet all your needs as a content marketer. This alone can save time and money.
Tip: Even if you use another email server for daily communication with coworkers and customers, you can still use a Gmail account to manage some aspects of your content marketing strategy. 
8. Google My Business
For some companies, this Google tool is no big deal. For others, especially local businesses, it is something that deserves attention.
With Google My Business, you can get your business listed on Google easily and for free. And the best part is that it gives you the opportunity to disclose various information about your company, such as phone number, address, type of business, among others.
Some benefits of Google My Business:
Opportunity to present your business to customers interested in what you have to offer.
The public can learn more about your company from the information you disclose.
Use images to show the difference of your company.
Allows you to display customer comments.
Remember, content marketing is much more than producing quality blog posts. Think for a moment about the word "content". Everything you write about your company and / or everything you share can be part of your content marketing strategy.
Since Google My Business lists are essential for good search results, it may be a good idea to use this tool in your content marketing strategy.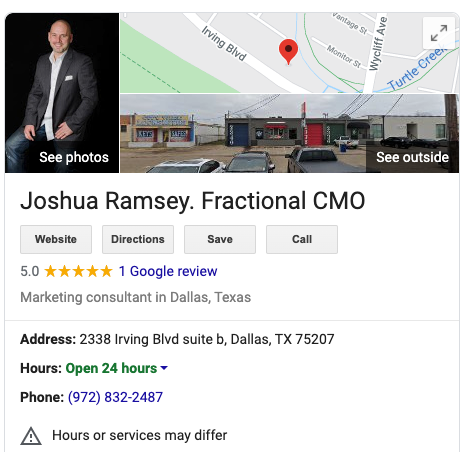 9. Google Docs
Anyone who follows my blog knows that I work hard to publish new posts whenever possible.
There is a lot involved in creating a post, so I am always looking for new ways to improve my efficiency.
Although over the years I have experimented with several tools to increase efficiency, Google Docs is still one of my favorites. In addition to being free, it is extremely simple to use. And of course, it offers many tools to experiment.
Here's how Google Docs helps me when I'm working on a new post:
Spelling check.
Thorough word count.
It allows to insert screen prints easily.
Facilitates sharing the file with other members of my team, such as my editor.
As you know, much of content marketing involves content creation. If you write a lot, try to use a tool that makes you 100% comfortable. There are many options available, such as Microsoft Word, but Google Docs has been my favorite for years.

10. Google Calender
How do you organize your day when it comes to content marketing? What steps do you take to ensure you are optimizing your time?
Google Calendar is one of the best organizing tools for anyone working with content marketing. Although it does not offer all the features available in paid tools, it is more than enough to keep you on track. Here are some things I like to do in Google Calendar:
Create events for my most important marketing tasks.
Share my availability with my team.
Having a better view of the "vacant spaces" in my agenda to be able to enjoy my day better.
I don't use Google Calendar as much as other Google tools included in this list, but I can say for sure that it helped me organize my day better.
As someone who knows the demands of a content marketer, I recommend that you take a look at what Google Calendar has to offer. You can find the right job to improve the way you work.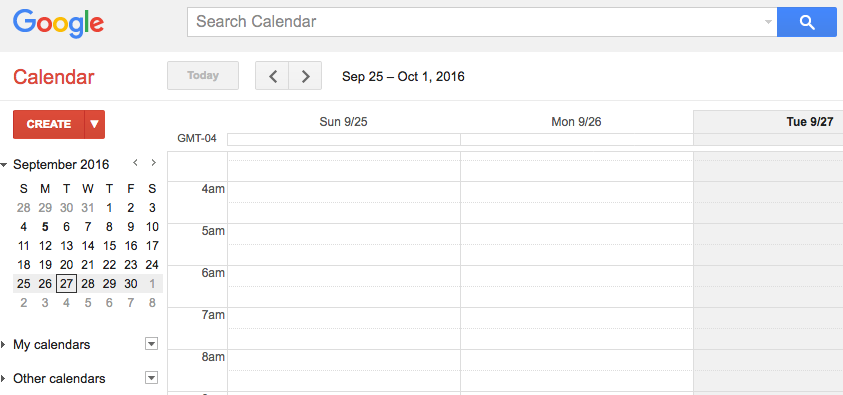 Conclusion
In a scenario where less than 50% of B2B marketers consider themselves efficient in content marketing, it is clear that there is still much to be improved.
I particularly like all of Google's tools. Some work better than others, but all deserve a careful look.